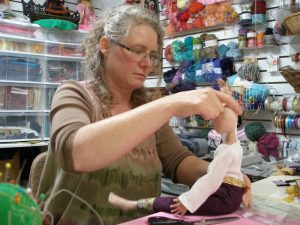 Jax Rula is an award winning fibre artist specializing in creating soft sculpted art dolls.  Jax began making dolls in 2006 and became a member of the Canadian Doll Artist Association (CDAA) in 2007. She entered her first competition that year at the CDAA's convention. The next year she was accepted in the Grand National Quilt Show hosted at the Centre in the Square in Kitchener, ON.  Her first award came in 2009 at the next CDAA convention. Several shows later she was accepted as guest artist for the 2013 Quilt and Fibre Arts Festival.
In 2014 Jax was awarded a Region of Waterloo Arts Fund grant for a project inspired by the Grand River Watershed; A Grand Fabrication: Truth, Tales and Art of a Heritage River. A Grand Fabrication has been shown in several locations including along side The Quilt of Belonging  during the Peace by Piece festival at the Cotton Factory in Hamilton in celebration of Canada's sesquicentennial 2017.
During her tenure as a doll artist Jax has been published in many magazines including; A Needle pulling Thread, Art Doll Quarterly, Doll Collector Magazine and The Grand Magazine.
Mostly self taught Jax has managed to attend workshops hosted by several well respected Doll Artists like Adele Sciortino, Marilyn Halcomb, Kate Church, Judy Skeel, Peggy Wilson, Wendy Rinehart and Olga Roehl.